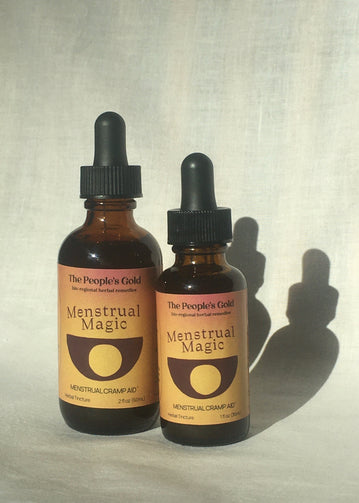 Menstrual Magic
Menstrual Magic
Regular price

Sale price

$15.00
Deeper connection & relief in your hand as you go through your cycle. 

⚘ support a healthy reproductive system.
⚘ aid in relieving menstrual cramps.
⚘ help connect to your cycle. 
This blend supports you in any phase of your cycle with reproductive system nourishing herbs Shatavari, Motherwort, and Rose. Black Birch, Motherwort, and Mugwort offer anti-spasmodic action on the smooth muscle to help relieve cramping and common cycle complaints. 
Ingredients: Shatavari Root, Motherwort Leaf and Flower, Mugwort Leaf, Black Birch Bark, Rose Petals, Organic Cane Alcohol, Organic Glycerine
Suggested use: Take 1-3 dropperfuls daily or as needed on the tongue or in a small glass of water or juice. Refer to your health care advisor for more specific use and dosage, especially if you are pregnant or breastfeeding.
 ~~~~~~~ 
*These statements have not been evaluated by the Food and Drug Administration. This product is not intended to diagnose, treat, cure or prevent any disease. Those pregnant or breastfeeding should consult their medical practitioner before use.
Couldn't load pickup availability