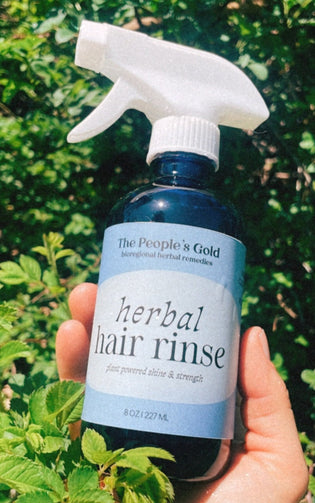 Herbal Hair Rinse
Herbal Hair Rinse
Regular price

Sale price

$22.00
Support your scalp and nourish your hair
↬ Helps to make hair shinier, stronger, and fuller. 
↬ Can remove product residue from the hair strands.
↬ Helps to balance the oil and pH of the scalp. 
Ingredients: Organic Apple Cider Vinegar, Horsetail, Nettle, Rosemary, Mint, Violet, Dandelion Leaf, Rose Petals, Filtered Water, Rosemary Essential Oil
Suggested Use: Spray into your scalp and throughout hair after shampooing in the shower. Massage into your scalp. Rinse out after 3-5 minutes. Use 1-3 times weekly. 
Comes in an 8 oz. glass bottle with spray top.
Does not have to be refrigerated. Can irritate eyes & open wounds. If this occurs, rinse well. 
*These statements have not been evaluated by the Food and Drug Administration. This product is not intended to diagnose, treat, cure or prevent any disease. Those pregnant or breastfeeding should consult their medical practitioner before use.
Couldn't load pickup availability