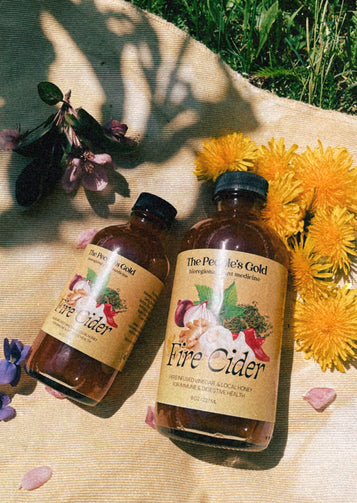 Fire Cider
Fire Cider
Regular price

Sale price

$8.00
Stay rooted in health 

↬ Warming and stimulating for the digestive system. 
↬ Helps clear up congestion in the upper respiratory system.
↬ Supports healthy functioning of the immune system. 
↬ Provides plenty of essential minerals and vitamins. 
↬ Great in dressings and marinades. 
Ingredients: Onion, Garlic, Cayenne, Ginger, Beet, Nettle, Astragalus, Hibiscus, Turmeric, Rosemary, Thyme, Sage, Locally sourced Apple Cider Vinegar and Honey.
Suggested Use: Take one tablespoon per day straight or diluted in water. 
*These statements have not been evaluated by the Food and Drug Administration. This product is not intended to diagnose, treat, cure or prevent any disease. Those pregnant or breastfeeding should consult their medical practitioner before use.
Couldn't load pickup availability