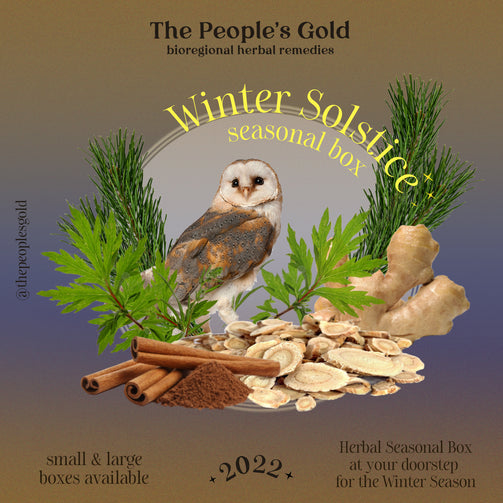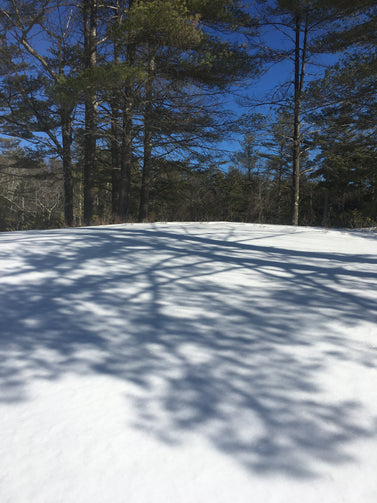 Winter Solstice Box
Winter Solstice Box
Regular price

Sale price

$50.00
As the bare branches dance to winter's whisper, we tend to our inner flame. Gathering over hearth and heart, there is space for slowness and contemplation. 
The Winter Solstice Box is a unique way to experience and integrate the seasonal shifts, taking the earth's lead. 
The Small Box
Rooted Chai Decoction Blend - 2 oz
A hearty and spicy blend of Reishi, Astragalus root, Burdock root, Nettle leaf, Ginger root, Cinnamon bark, Turmeric root, Cardamom pod, Clove, and Star Anais. Made with milk and sweetener of choice, it makes the perfect warming tea to cozy up with. 
Winter Glow Tincture - 1oz
Milky Oat Tops, Tulsi, Elecampane, Licorice, Cinnamon. This spicy and moistening tincture blend is formulated to nourish your nerves and immune system, while warming up the body and offering a moistening and soothing effect for the tissues. 
Sweet Surrender Bath Salts - 7 oz
Mugwort, Blue Cornflower, Chamomile, Lavender, and Rose in Magnesium Epsom Salts. Baths are such a winter staple and these bath salts add that extra self-love magic. These would be great for a foot bath if you don't have a bath.
Large Box Contents include all of the above, plus:
Strawberry & Sumac Shrub - 4 oz
Made with fresh summer Strawberries and Sumac berries, Mimosa flowers infused in local vinegar and honey. This is summer encapsulated in a tasty shrub you can use to make amazing drinks. 
Sacred Vessel Body Oil - 2 oz
Juniper Berry, Balsam Fir, White Pine, Mugwort, Rosehips, and Reishi slow infused in Sunflower Seed oil with hints of vanilla and cedar. Connect to your body and nourish your skin with this delicious woodlands-inspired body oil. 
All boxes come with a zine that is packed with thoughtful writing and information about each product, as well as a seasonal music playlist. 
FREE SHIPPING
*These statements have not been evaluated by the FDA. This product is not intended to diagnose, treat, cure, or prevent any disease. Pregnant or breastfeeding people should consult their medical practitioner before use.
Couldn't load pickup availability