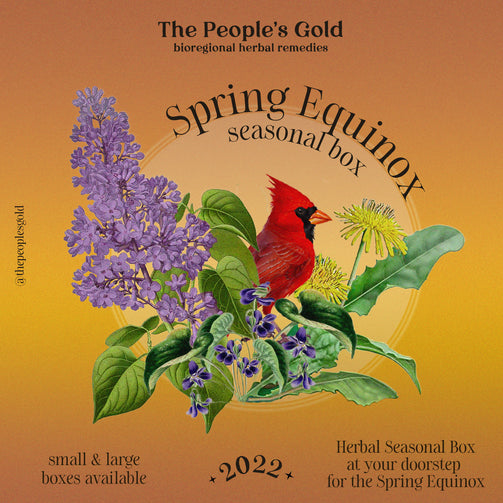 Spring Equinox Box
Spring Equinox Box
Regular price

Sale price

$50.00
Spring is a time of reignited energy. 
We are graced with the return of bird songs, the trees begin to bud and breathe sap into their long trunks; and we begin to feel the energizing quality of the longer, warmer days. Spring is a regenerative time. It is a concentration of growth, renewal, birth, and vitality. The Spring Box is a unique way to experience and integrate the seasonal shifts, taking the earth's lead. 
The theme of this box is awakening with the Earth. The body systems that these remedies focus on are the digestive system, the nervous system, and the immune system. These remedies support the body in working through seasonal allergies, lethargy, digestive sluggishness, loss of appetite, heightened stress or anxiety associated with re-emerging back to the world after a deep hibernation, and overall connection to the plant friends coming back to us at this time. 
The Small Box contains: 

✶Full Bloom Elixir ✶
This nourishing and delicious oxymel (apple cider vinegar and honey extraction) is made with springtime blooms of Lilac, Magnolia, Violet, Dandelion Flowers, and Nettle. It is sweet and tart, awakening the palate. It is great on its own or mixed into a beverage with seltzer water or your liquor of choice. Comes in a 4 ounce glass bottle. 
✶ Ignite Herbal Tincture ✶
This tincture is formulated with herbs to help you unfurl and move stagnation. It is a blend of Lion's Mane mushroom, Turmeric, Dandelion Root, Motherwort, Rose and Orange Peel, and Glycerine. It is carefully blended for a pleasant taste. These herbs support the body's natural detoxification processes and support the nervous system in adapting to changes. Comes in a 2 ounce dropperbottle.  
✶ Vernal Spark Herbal Finishing Salt ✶
Finishing salts offer added flavor and nutrition to your meal. Just sprinkle some before eating or use while cooking. This blend is made of Celtic Sea Salt, Bee Pollen, Hemp Seeds, Rosemary, Hemlock Needles, Nettle, and Maple Sugar. It is sweet and savory- great on eggs, sauteed veggies, meats, and even confections like cookies or brownies. Comes in a 2 oz glass jar. 
The Large Box contains all of the above plus:
✶ Emerald Glow Decoction Blend ✶
A decoction is a low heat, long steep of medicinal herbs. It's a great way to enjoy the nutritive benefits of medicinal herbs. This decoction is made with Nettle, Burdock Root, Dandelion Root. This tea has a gorgeous emerald color when steeped correctly, which is both beautifully enchanting and potent. The herbs in this decoction blend support the body in stimulating digestion, supports detoxification and elimination, adapt to seasonal allergens, and offer lots of great vitamins, minerals, and antioxidants. Comes in a 40g home compostable pouch. 
✶ Fresh Earth Cleansing Grains ✶
Cleansing Grains are powdered face wash and gentle exfoliator that can be used daily to cleanse and soothe the skin. When combined with some water, hydrosol, or a bit of oil turns into a paste that can be used as a scrub or a mask. Fresh Earth is made with organic Oats, French Green Clay, Lavender, Elderflowers, and Burdock Root. It is soothing to dry, irritated skin and leaves it baby soft. Comes in a 4 ounce glass jar with a bamboo spoon. 
✶ Maple Syrup ✶
There is so much amazing maple syrup production in my area, and as a gift, i'm adding a small bottle of locally sourced maple syup to the large boxes. 
Both box sizes come with:
✶ an informational booklet  ✶ 

6 pages of writing and images for deeper learning and connecting. 
✶ a springtime playlist  ✶
to move you with the season's energy. 
✶ Free shipping & tax included ✶
The last day to order is March 14th.
Boxes will ship on March 16th. 
The Spring Box is part of a seasonal subscription box. You can buy the Full Wheel of the Year package here. Set yourself up for success and receive 10% off on the investment in your self-care. 
*the specific herbs in the products are subject to change as the boxes are coming together.
*These statements have not been evaluated by the FDA. This product is not intended to diagnose, treat, cure, or prevent any disease. Pregnant or breastfeeding people should consult their medical practitioner before use.
Couldn't load pickup availability