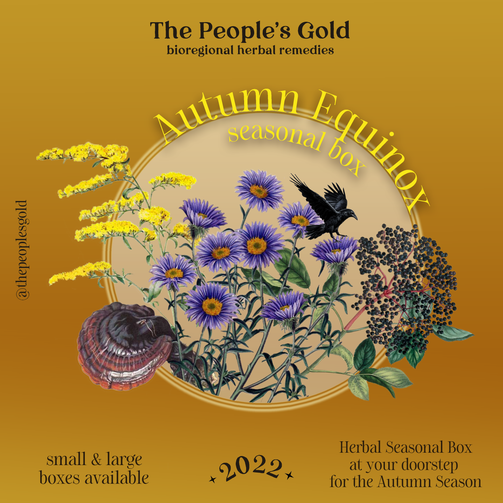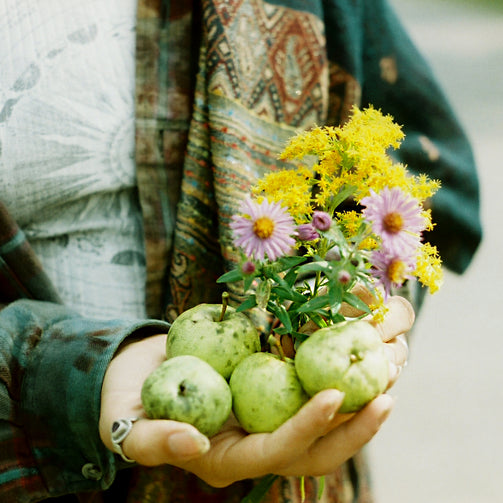 Autumn Equinox Box
Autumn Equinox Box
Regular price

Sale price

$50.00
As each leaf dances its way to the forest floor, the shifts of the season invite introspection and gratitude. 
The Autumn Box is a unique way to experience and integrate the seasonal shifts, taking the earth's lead. 
The Small Box ($50) contains: 
✶ Harvest Moon Mint Tea ✶ Made with Mountain Mint, Elderflower, New England Aster, Oat Tops, Lemon Balm, Cornflower, and Calendula. This herbal tea blend is colorful and warming. Its invigorating taste can help move stagnant energy like gas, bloating, fever, congestion, and moodiness. Combine with the Tulsi Honey and experience pure bliss. Comes in a 25g compostable bag
✶Elder Immunity Syrup✶  Made with local Elderberries, Echinacea Root, Elecampane Root, Astragalus Root, Ginger, Cinnamon, and local honey, this syrup offers potent immune-boosting action in a delicious syrup you'll want to sip straight out of the bottle. Comes in a 4 oz glass bottle.
 ✶Autumn's Breeze Hydrosol✶  Copper distilled hydrosol (botanical waters) of Marigold, Tulsi, and other seasonal scents. Utilize this spritz as a facial toner, or aromatic spray to enchant & restore. Comes in a 2 oz glass spritzer. 
The Large Box ($95) contains all of the above, plus:
✶Tulsi Honey✶  There are no words for this delicious concoction. Tulsi (also known as Holy Basil) offers its rich scent and flavor to 100% local honey. This treat is perfect on its own, in tea, or for adding to recipes. Comes in a 4oz. glass jar. 
✶St. John's Wort oil✶  This oil is a slow infusion of  St. John's Wort and Ginger in sunflower seed oil for a warming and healing oil that supports muscle and tissue health. Body oiling is soothing to the nervous system and supports skin health, our largest organ. Comes in a 2 oz glass serum bottle.
Optional Add-In ($15) for both sized box:
✶Coeur Tincture✶  Made with Reishi, Hawthorne, Milky Oats, Echinacea Root, and Rose. This tincture is super supportive for the heartspace and grief work. The Fall is a time when many cultures honor the cycles of life and death as the virbrant foliage returns back to the Earth. Having herbal supports at this time can help navigate these times. This tincture also supports the immune system to protect from seasonal ailments. Comes in a 1 oz glass bottle.
 ✶
Both sizes come with a seasonally inspired zine & spotify playlist
The small box is $50, valued at $75 and the large box is $95, valued at $120. Both boxes are made in limited quantities to maintain the quality of these seasonal products.
✶ ✶  Last day to order is September 14th ✶ ✶ 
The Fall Box is part of a seasonal subscription box. You can buy the Full Wheel of the Year package here. Set yourself up for success and receive 15% off on the investment in your self-care. 
*These statements have not been evaluated by the FDA. This product is not intended to diagnose, treat, cure, or prevent any disease. Pregnant or breastfeeding people should consult their medical practitioner before use.
Couldn't load pickup availability